Advice & conception
In personal consultations, we develop a coherent, individual and user-friendly concept to help you achieve a successful website.
As part of the consultation, you will receive a non-binding offer from us, in which we define your goals and the associated solution strategies.
Planning and Coordination
Planning as a graphic and technical requirement
Modern Techniques
Best prepared for the future thanks to modern software development
SEO & SEM
Search Engine Optimization and Search Engine Marketing
Corporate Design & Logos
Here's how you remain true to your principles
Responsive Layout
Display on all possible resolutions on smartphone, tablet or PC
Maintenance and Support
Upcoming maintenance and updates, support and bug fixes
Corporate Identity and Corporate Design
Tailored to your corporate identity and your corporate design, we develop an appealing layout for your website.
In addition to image processing and optimization of existing image motifs, we take on the creation and modification of graphics and the redesign or expansion of an existing website.
We can also offer logos, business cards and more.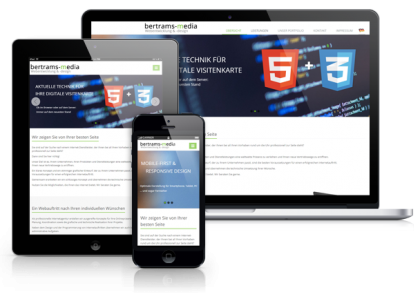 Development
We offer a variety of websites, such as shop systems, blogs, web services, but also small, cheaper websites.
We have already implemented web-based administration systems such as billing or appointment systems.
Upon request, we take care of the maintenance and updating of the content.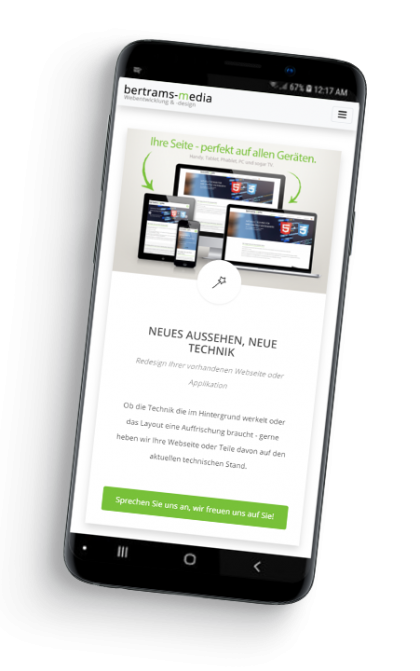 Content Management
So that you can edit content independently, we offer so-called content management systems (CMS).
These enable you to create and edit content without HTML knowledge.
With content management systems, every company can quickly and easily present its customers with news from various areas.
Outdated links and information can also be updated with minimal effort.
The update or editorial maintenance can be carried out at any time from anywhere in the world.
We have already implemented many projects with the well-known content management systems Typo3, Joomla and Wordpress.
Search engine optimization (SEO)
The websites created by bertrams-media are search engine optimized to ensure that your customers can easily find them.
So-called URL rewriting generates search engine-friendly URLs and content is optimized for search engines via a tabular layout.
In addition to the use of certain HTML elements, relevant search terms are used in meta information, descriptions and titles.
Service & administrative services: All from a single source
Having your own domain name and website are a valuable and important tool for your company and much more than an electronic business card.
We advise you on the selection of web hosting packages, Internet access and hardware from workstation computers as well as the required software.
At the same time, we offer you cheap domain packages and set them up.
In addition to brokering and registering the desired domain (provided that this has not yet been assigned), we take on the setup, management and backup of your data.
We set up web servers, databases and e-mail addresses and register with the well-known national and international search engines.
Our extensive range of services also includes the configuration of servers or workstations on site.
Warning, now it's getting technical
The techniques we use are current web standards:
HTML 5 for structure and CSS 3 for the layout, in particular the Bootstrap Framework version 4.
Javascript, especially jQuery for Ajax connections and dynamic interaction elements.
We develop in the script language PHP (current: version 7.3). We also like to use robust open source frameworks, e.g. on symfony.
To store data we use MySQL or postgreSQL databases, depending on the requirements.
Web Design
86%
PHP
81%
SQL
76%
HTML
90%
CSS
89%
Image editing
84%
Illustration
69%